rbCarbon - one team, one goal!
We want your horse to be perfect. That's what we focus on in our daily work. You can get to know our team in the video and down below on this page.
We are convinced that an alternative to conventional metal-based horseshoeing has to work out for both the horse and its rider. Only on this premise we can spend our valuable time together – in full motion, yet relaxed.
Who we are
The Co-Founders
Bianca loves horses and has always owned one since her early childhood. Art therapist and psychologist. Consultant and always there when needed. Has a great sense for animals, people and situations, and her organizational talent is just indispensable. Perfectly combines here Italian impulsivity with her German structuredness.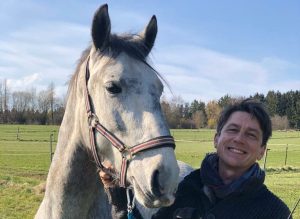 Hoof technician. Sculptor and educator. Inventor and developer of alternative horseshoe technologies. Many years of experience with one-component gluing solutions on horses' hooves. With an unstoppable passion for his work. Always looking for the even more perfect solution. Did not know about his affinity for horses for quite some time.